Deborah Veale in Sunday Business Post 2018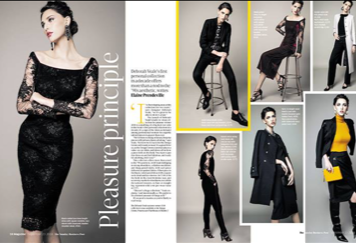 ---
Deborah Veale Irish Independent 2018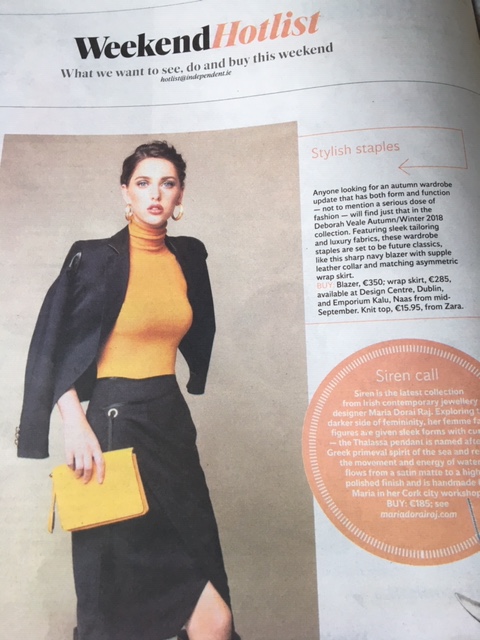 ---
AW 2017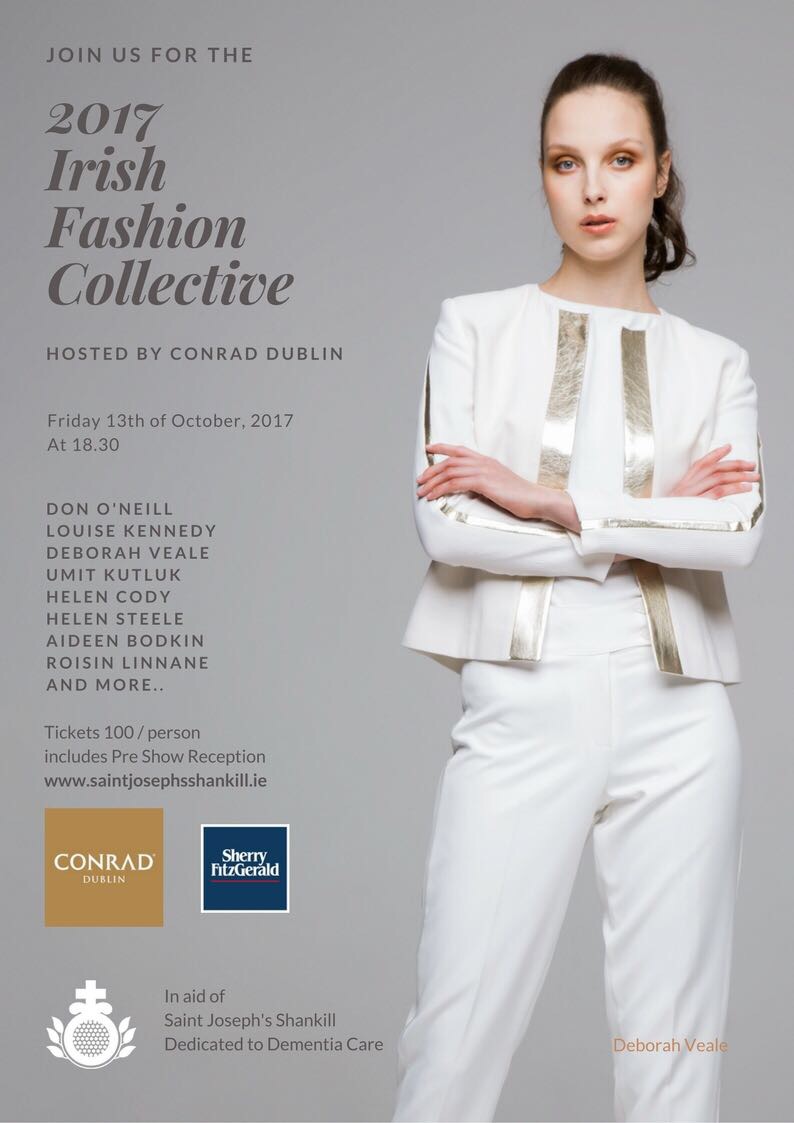 VIDEO Link : Deborah Veale on Exposé 2017
https://www.virginmediatelevision.ie/xpose/video/131370/Tuesday-29th-August
Launch of Irish Fashion Collective at The Conrad
---
Independent 2017 Deborah Veale
Cut the cloth: Deborah Veale's first ready-to-wear collection in 10 years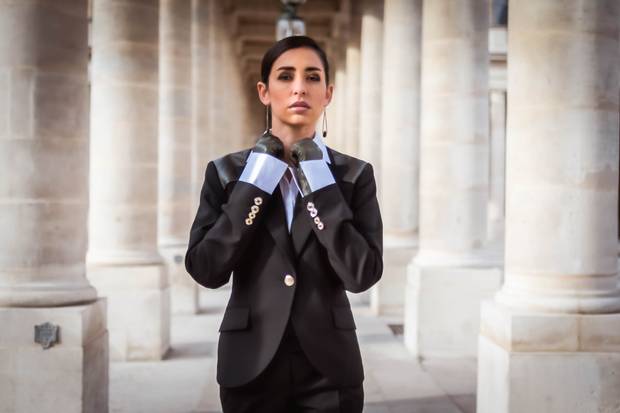 Wool blazer, €350; matching trousers, €210, both Deborah Veale. Shirt, €80, Brook Tavener. Silver and onyx earrings, to order, €200, Janice Byrne Goldsmith. Leather gloves, €150, Paula Rowan
For at least a year, I have been obsessed with tailoring. I crave a chalk stripe; straight, strong shoulders on a well-cut jacket; potentially, a figure-forming waistcoat; and, certainly, natty trousers. Lucy Liu's style as Joan Watson in season five of Elementary has been my only solace.
Until this week, when I re-met Deborah Veale. Deborah is a designer who, from a young age, has dressed female presidents for their official engagements. Her first ready-to-wear collection in 10 years -the reason why we are meeting - fills me with fire.
Finally, someone in the fashion arena who actually does what women want - clothes that strengthen them in their work lives. Clothes that stride down corridors and get things done.
Clothes maketh the man - and the woman. Right now, as we start to trust that we are back to work again (the recession-sun setting on the horizon, possible Brexit-bounty coming on the dawn), women are getting their leadership mindsets on, and they need bloody serious tailoring to do it.
"The last time we wore suits was the 1990s. The 1990s were about looking powerful to feel powerful. There is not that need any more," Deborah explains, when we meet in her studio.
"Ireland is back to work. We are thinking about what we wear to work. Formality has come back into fashion. Tailoring defines. When you go to work, it is a suit of armour you put on. It gets the job done," she says.
Deborah Veale's collection is made up of the working-wardrobe builders: sharply tailored, single-breasted wool-twill coats; single-breasted jackets; coordinating skirts and trousers.
Then there is the cement: the perfect jersey dresses; wear-anywhere tops; and, being Deborah, anticipating everything, there are the perfect dyed-to-match, knee-high, wedge-heeled sock boots. All done in a tight palette of black, navy, olive and aubergine. Slash-like applique, leather and old-school Gianni Versace-like gold buttons are the only ground given to fashion's fancy. Prices from €325 to €795.
Next up for Deborah Veale, apart from her bespoke collection, is organising the Irish Fashion Collective at the Conrad to help people living with dementia.
"My dad was an architect. It's where I got my love of structure. Now he has dementia and lives in a home. This is my way of giving back," she tells me, looking strong and sure in her own suiting.
Suiting action to cause. Excellent.
Photography by Matteo Pellegrinuzzi
Fashion edited by Constance Harris
Sunday Independent
---